ZinCo Systems for Extensive and Intensive Landscaped Roofs
When designing and installing a green roof, it is important to provide a growing environment as close as possible to the plant's natural environment. The most important factor is to compensate for the lack of subsoil. Each layer of a ZinCo green roof build-up is conceived to take over the relevant functions of the missing ground. A durable plant coverage is guaranteed.
Basic types of green roofs
Extensive roofs are an ecological alternative to conventional surface protection or ballast layers such as gravel and pavers. They are lightweight and have a shallow build-up height. Suitable plants include various Sedum species, herbs and some grasses. They cope with the conditions on the roof (sun, wind, drought, etc.) by nature. After establishment of the vegetation, the maintenance is limited to one or two inspections a year.
Intensive green roofs can most easily be compared to building a garden on a roof. They are usually multifunctional and accessible. They require more weight and a deeper system build-up. The maintenance is regular and depends on the landscape design and the chosen plant material. Depending on the substrate depth, anything is possible from lawns, perennials, shrubs, trees including other landscape options such as ponds, pergolas, patios, walkways and driveways. For all these kinds of use ZinCo provides well-engineered longlasting and functioning systems.
Additional systems
Additionally, ZinCo has designed a range of fantastic hybrid solutions and elaborate system build-ups focusing on stormwater management and counteracting Urban Heat Island effects.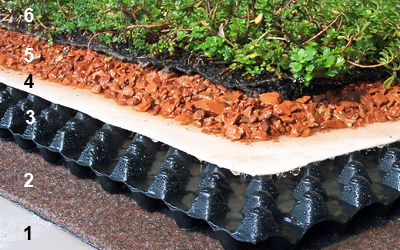 1. Root Barrier
Prevents roots from penetrating the roof membrane if the existing roof membrane is not root proof.
2. Protection Mat
Protects roof membrane from sharp objects and retains rainwater for plants.
3. Drainage Layer
Retains rainwater for dry periods and drains surplus water.
4. Filter Sheet
Prevents fine particles from being washed into the drainage layer.
5. Growing Layer
Engineered growing medium based on minerals and organic material.
6. Plant Level
Accomodates a variety of vegetation based on climate, landscape design, load bearing requirements and desired benefits to building owners and communities.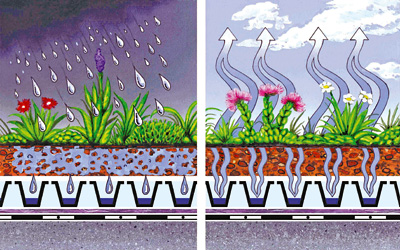 Stormwater Management
Reduces immediate water run-off. The sewer pipes can be reduced in capacity.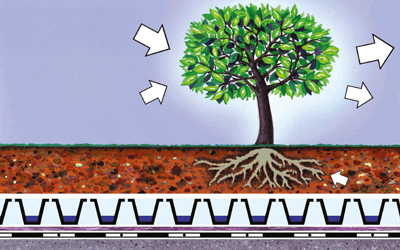 Improving the Microclimate
Green Roofs humidify the air and provide some cool air. This is particularly effective on rooftops that lie adjacent to residential or office spaces, but also makes a valuable contribution to improving the microclimate in our urban centers. Furthermore, air conditioning systems have a much greater effect due to the reduced heating.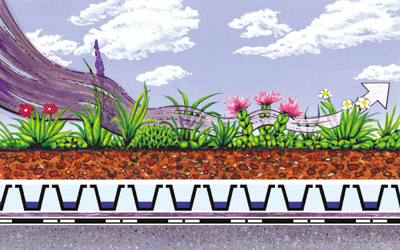 Binding Dust and Toxic Particles
The large foliar surface of Green Roofs and the deceleration of the air flow that they help to create means that landscaped roofs filter between 10 and 20 % of the dust from the air. Nitrates and other substances contained in the air and rainwater are also retained and utilised.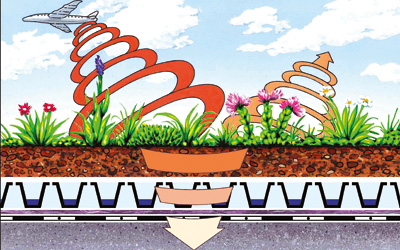 Noise Reduction
Improves sound insulation. This is most effective with buildings near airports or noisy discotheques or machinery.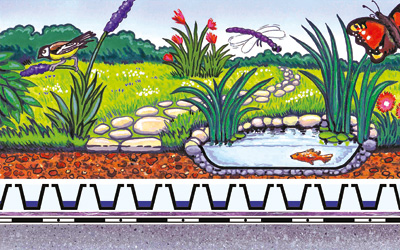 New Habitat
Encourages wildlife to remain within build-up areas.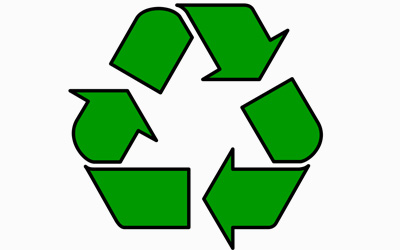 Utilising Valuable Recycling Materials
Rubber, polyethylene and expanded polystyrene rigid foam are used in the production of drainage elements. The mono clay material Zincoblend M and humus are the basis for the production of ZinCo rooftop garden system soils. The most important criterion is the quality of the product, which is tested by recognised institutes and research bodies.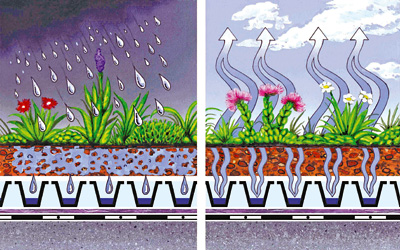 Stormwater Management
Reduces immediate water run-off. The sewer pipes can be reduced in capacity.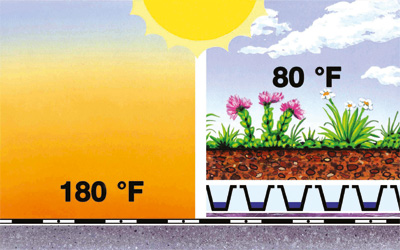 Extending Roof Life
Protects the roof membrane from UV exposure, heat, cold and hail and mechanical damage.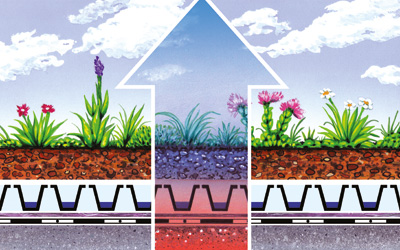 Improving Building Operations
Thermal protection in both summer and winter and reduction of heating and cooling costs.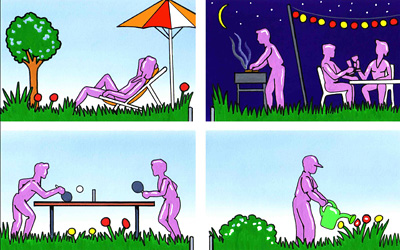 Substitute for Lost Areas of Landscape
Having a Green Roof means that the piece of land in question can be better utilised: the green roof can be taken into account as a substitute for sacrificed landscaped areas. This is often prescribed in the development plan.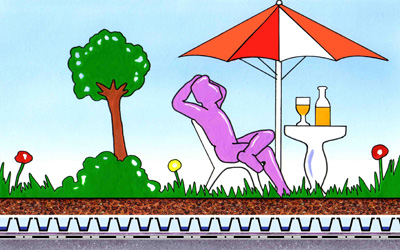 Providing Additional Space
Green Roofs offer additional space for numerous uses. Whether you want a relaxing garden, a playground or a golf course, it all can be achieved as part of the existing foot print.